Oblique externus abdominis muscle :-
Muscle details :-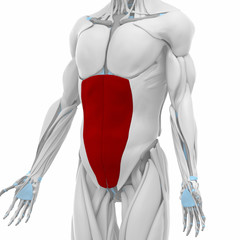 the largest and the most superficial (outermost) of the three flat muscles of the lateral anterior abdomen.
origin :-
Ribs 5-12 .
Insertion :-
Xiphoid Process, Outer Lip of the Iliac crest, Pubic Crest, Pubic tubercle, Linea alba, Inguinal Ligament, Anterior Superior Iliac Spine (ASIS)
Nerve :-
Thoracoabdominal nerves (T7-11) and Subcostal nerve (T12) .
Actions:-
Flexion of the torso and Contralateral rotation of torso .